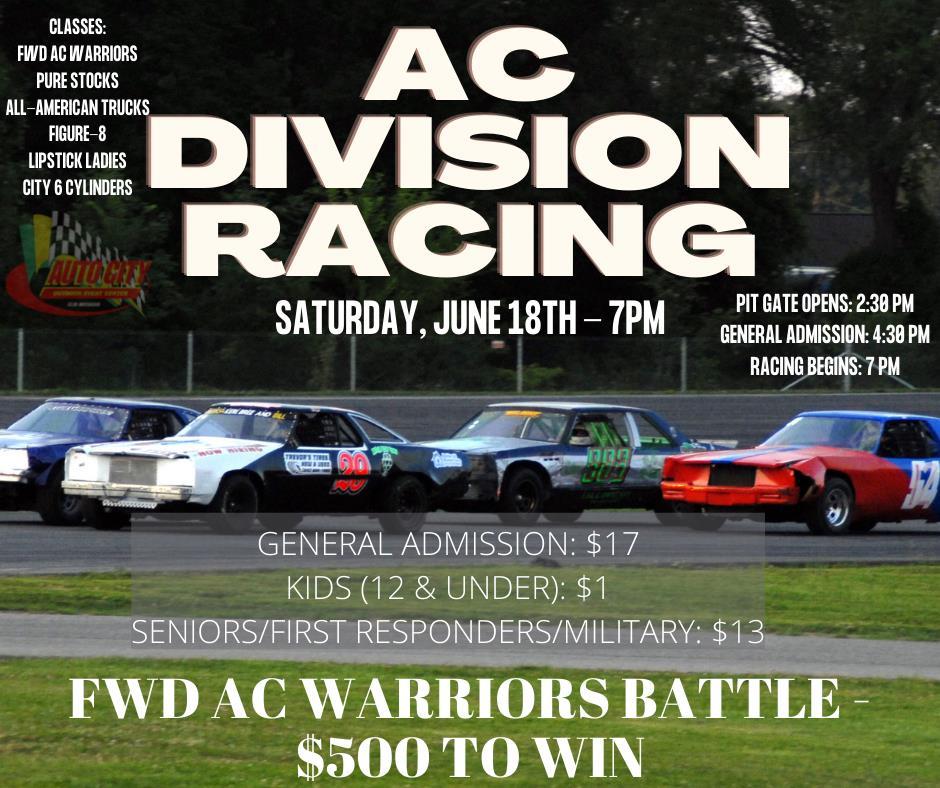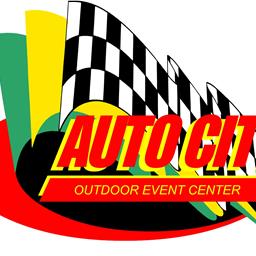 6/7/2022
Auto City Speedway
---
June 18th Results
Auto City Speedway Results 6/18/2022
Well it was a perfect night for racing of Auto City Speedway last Saturday night. Weather couldn't have been better. The action on the track was just as good too.
The qualifying for the All American Trucks was first on the schedule and it was last year's champion, Josh Delong in his black Ron's Bump Shop #067 getting fast time with a 17.45 around the quarter mile. In the Herald Pure Stocks, it was a returning driver from a few years ago, Nick Johnston in his blue and white Auto City Used Cars #7 topping the field with a 16.22.
The Herald Pure Stocks started the night of racing with two eight lap heat races. The first heat race was won by J.T., James Clayton (#54). The second heat went to Tim Kirby (#81). On a side note, last feature winner, Bryan Thompson (#66) broke a transmission and was out for the night.
The All American Truck series heats were next and it was Greggy Long III (#38) taking the checkered and in the second heat it was Josh Shaw (#J23) getting the win.
The Lipstick Ladies hit the track next and it was multi-time champion Amanda Clayton (#53) taking the quick lead when the green waved and it was rookie, 15 yr. old, Jocelyn (Jose) Long (#55) trying to make a dash for the top spot. Note, this was only Jose's second time in a race car. As the laps counted down, it looked like Amanda had it wrapped up, but slowly Jose made her way up and was right on the back bumper of the #53 car with just a couple laps to go. On the last lap, coming out of turn four, Jose went high, then did a dive bomb to the inside lane making it by Amanda with the two touching coming to the finish line. When they crossed, it was Jose Long getting her first ever win.
The Herald Pure Stock thirty lap feature race was now up and with a stout field of competitors, you knew there was going to be some good racing. The field was led to the green by Tim Kirby (#81) and Jim Hardin (#25h) and it was Kirby taking the quick lead, with Hardin, Randy Clayton Jr. (#12) and James Clayton (#54) all in pursuit. Right about lap seven, James Clayton had something let go with some serious smoke bellowing out from his vehicle which oddly, at the same time in turn four, Hardin slid up into Kirby breaking a left rear wheel off and bringing out a yellow. After all the cars were attended to and track cleanup was complete, it was back to green flag racing with Hardin now in the top spot and Clayton Jr. in tow, also last year's champion, Bruce Dutton Jr. (#19) now in the mix. By lap nine, Clayton Jr. did make it by Hardin for the lead. The rest of the pack was not going away by any means at the likes of Nick Johnston (#7) and Andrea Baxter (#5) had made their presence known. As the laps counted down, it was a four way battle side by side each lap with those top four. Clayton Jr. held off all advances as Johnston tried high and low to get by him, with Hardin and Baxter waiting for an opening as well. When the checkered flew, it was Randy Clayton Jr. holding off the pack, with Johnston, Baxter, Hardin and Dutton rounding out the top five respectfully.
The relatively new introductory class, the City Six Cylinders were next for their eight lap race and when the green dropped, it was Silas McCaslin (#12) and Cienna Snover (#32) battling it out side by side with McCaslin on the inside and Snover working the outside groove momentum with Mathew Crittenden (#421) following.
At the completion of the eight laps, it was McCaslin getting the win over Snover and Crittenden.
The All American Truck series thirty lap feature was now up and the eighteen full size trucks hit the track ready to rock. It was the (#J21) of Walt Dalrymple Jr. and the (#18) of Zach Lopez leading the way to the green. Once that green flag was waving, it created three wide racing all throughout the field. Greggy Long III (#38) split the two front runners to squeeze into the lead. By lap five, fast qualifier, Josh Delong (#067) had made his way up through the pack as well as Paul Rigda III (#43). Right about lap ten, Delong snagged the lead from Greggy. By lap fifteen, Dan Shamel (#47) and Anthony Richardson (#422) rounded out the top five. As the laps clicked off, everyone worked their way through lapped traffic with only a few shuffling it up. When the checkered flag flew, it was Delong, Long III, Richardson, Shamel and Rigda in that order.
The new Auto City Warriors front wheel drive division was next and the pot was sweetened with a $500 to win.
Some of the competitors for this race were, Rich Snover (#32), James Clayton (#53), William Grubbs (#80 which was a backup car), Brian Crittenden (#421) and Anthony Duvi (#55). The early leaders were Duvi and Snover battling for the top spot. Duvi did make it stick and after the twenty lap race was over, it was Duvi getting the win.
The last race of the night was the Auto City Figure Eights. When the fifteen laps were complete, it was Anthony Richardson (#422) over Paul Ridga III (#43) and Tim Curtis (#73).
Check out all the details on upcoming events at www.autocityspeedway.com and "We'll See You at the City". Next Race is July 9th
---
Article Credit: Randy Adam
Back to News