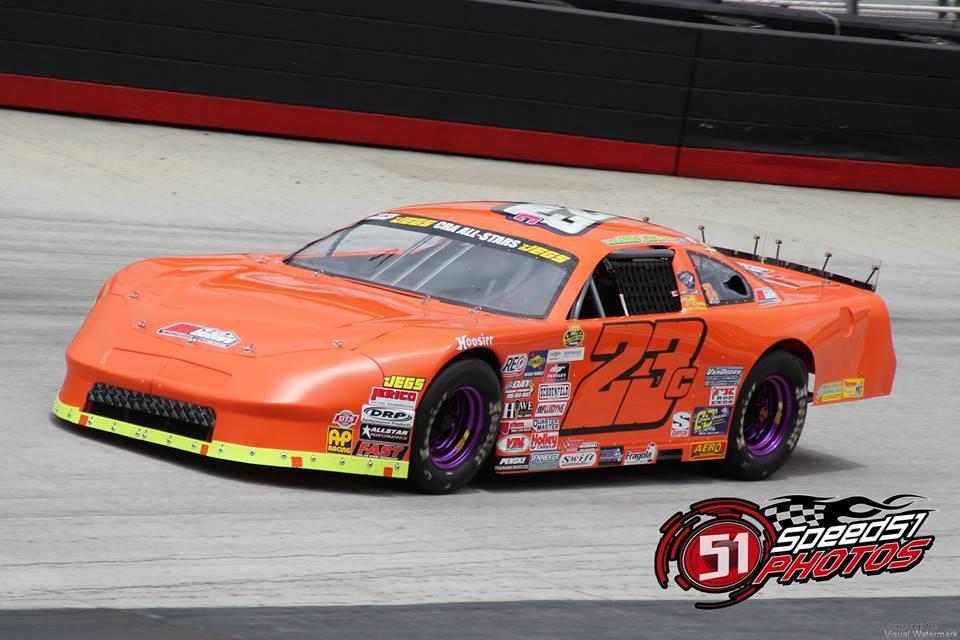 8/8/2018
Inside Line Promotions
---
Chick Faces Tough Luck at Auto City Speedway, Looking Forward to Berlin
(Photo by Speed51.com)
Inside Line Promotions – CLIO, Mich. (Aug. 8, 2018) – Mandy Chick faced tough luck last weekend as an early race incident took her out of contention during a JEGS/CRA All-Stars Tour event at Auto City Speedway.
"We were able to go back to Auto City and pick up the line pretty quickly in practice thanks to my notes from last year," she said. "We picked up four tenths (of a second) from last year and ran our fastest laps there."
Chick laid down a qualifying lap that timed in 17th quickest. However, the team opted to pull out of the qualifying line to make some adjustments to the car and therefore start at the tail of the field.
"We struggled in qualifying a good bit," she said. "I was off and the car was off. We definitely didn't qualify where we wanted to be so we made some adjustments for the race and had a long way to the front."
Chick missed an on-track incident by a split second decision early in the race. Unfortunately, a few laps later she was caught up in an incident that ultimately took her out of contention for the remainder of the night. She was credited with a 17th-place finish.
"It was a rough weekend with qualifying and how the race went," she said. "But we had fun because it was hard racing. Although we didn't finish the race, I still was able to learn from watching how other drivers drove their lines so not all was lost."
Chick's next race will be this Saturday at Berlin Raceway in Berlin, Mich., with the JEGS/CRA All-Stars Tour.
QUICK RESULTS –
Aug. 4 – Auto City Speedway in Clio, Mich. – Qualifying: 17; Feature: 17 (17).
SEASON STATS –
6 races, 0 wins, 0 top fives, 1 top 10, 4 top 15s, 6 top 20s
UP NEXT –
Saturday at Berlin Raceway in Berlin, Mich., with the JEGS/CRA All-Stars Tour
MEDIA LINKS –
Website: http://www.MandyChick.com
Twitter: https://twitter.com/MandyCoolChick
Facebook: https://www.facebook.com/mandythecoolchick/?fref=ts
SPONSOR SPOTLIGHT – JAS Expedited Trucking, LLC
JAS Expedited Trucking, LLC, specializes in expedited shipping, while proudly guaranteeing on time delivery. We are a small family owned expedited trucking company, located in Imlay City, Mich. We first went into business in 2003 as a DBA and in 2006 JAS became an LLC. The Owner, Tony Freeland, has 26 years of experience in the expediting field. He began in expediting as an independent contractor, then as a single truck owner/operator and now as a fleet owner. JAS currently owns 24 Straight Trucks and 2 Tractor Trailers. We plan to grow our fleet by ending 2018 with 35 trucks. As we continue to grow, we are always looking for drivers who want to join our team and grow with our family.
"JAS Expedited Trucking, LLC, has joined our team for the rest of the 2018 season and will be coming onboard for the 2019 season as well," Chick said. "We're really excited to be working with them. They support a lot of the JEGS/CRA All-Stars Tour races as well as Michigan Cup. They're also supporters of JD Motorsports and Vinnie Miller in the NASCAR Xfinity Series. I'm really excited to join the team and spread the word about how great of a company they are and their company values."
Chick would also like to thank 323.tv, JRCtax.com, Kenny's Tile & Flooring, FK Rod Ends, Fragola Performance Systems, VanDoorn Racing Development, AR Bodies, Simpson Racing Products, Aero Race Wheels, Mittler Brothers Machine & Tool, True Auto Parts & Paint, The Joie of Seating, Renegade Racing Fuels and Lubricants, Fabrications Unlimited and Dynamic Drivelines for their continued support.
INSIDE LINE PROMOTIONS –
Inside Line Promotions specializes in affordable public relations and media management for motor sports drivers, teams, sponsors, tracks, series, events, organizations and manufacturers. ILP Founder Shawn Miller leverages professional journalism with new media technologies and social networking to improve your exposure and the return on investment for your sponsors.
To meet the media relations needs of your program by joining Team ILP, contact Shawn at 541-510-3663 or Shawn@InsideLinePromotions.com. For more information on Inside Line Promotions, visit http://www.InsideLinePromotions.com.
---
Article Credit: Inside Line Promotions
Submitted By: Shawn Miller
Back to News