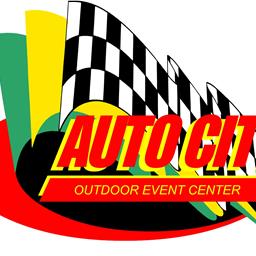 9/8/2015
Auto City Speedway
---
Results September 5th
Auto City Speedway wrapped up its 2015 season with Maximum Destruction on Saturday, September 5th.  The packed house was treated to plenty of action and lots of destruction.
The Herald Pure Stocks ran their season championship as point leader Randy Clayton Jr. set fast time with a 16.48.  Andrea Baxter took the early lead to start the 25-lap feature.  On lap 5 Andrew Burton when underneath her coming out of turn 4 and took over the top spot.  Burton pulled away to take the feature win.  Clayton finished second and earned enough points to capture his very first track Championship.  Rounding out the top 5 were Josh Delong, Baxter and J.T. Clayton.
The champion was also crowned in the Bob Kern's Auto Auto Repair Figure-8's.  Andrew Burton jumped out in front until his hood flew open, and stayed that way for the entire race.  Chad Lamson took over the lead and took the victory, also winning his seventh Figure-8 championship.  Burt on's open hood didn't hurt him too badly as he finished second followed by Tim Shann, Jeff West and Ray Derminer.
But the fans come to see the destruction and they weren't disappointed.  There was lots of crashes, some accidental, some intentional.  Rebecca Deboer won the Powder Puff race while Jimmy Bass and Don Dennie teamed up to win the Chain Gang race.  Flag Pole race winners were Gerald Persails Jr. and Josh Delong.  Maverick Morrow survived the crashes to take the 50-lap Enduro, then joined Shane Fogarty for the victory in the Push Car race.  Fogarty made it a big night as he then won the Skid Car race and the School Bus Figure-8. In the Figure-8 Trailer race Don Dennie's trailer was hit heading for the checkered flag, but kept enough of it on his car to take the win.
Auto City will have their Championship open house and awards ceremony on Sunday, October 4th at the track from 2-5pm. Also the annual fall swap meet is October 10th from 8am-2pm. For more info call 810-686-9500 or go to autocityspeedway.com.
Back to News