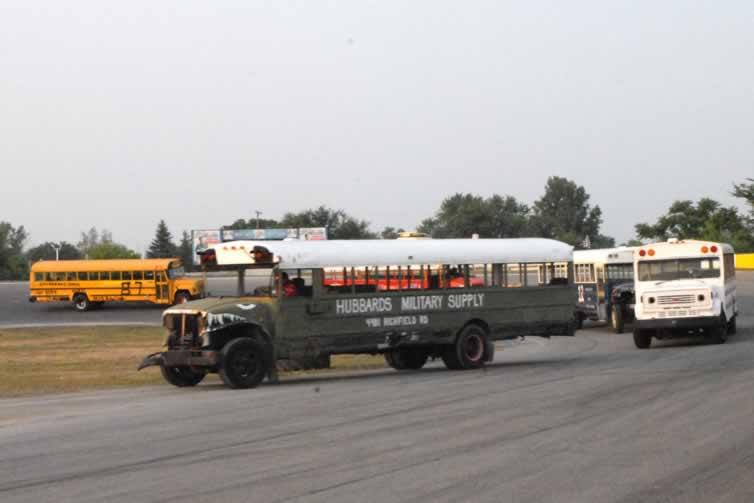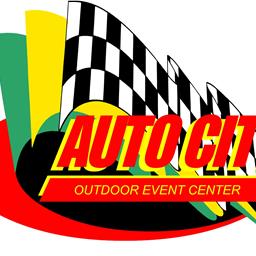 7/7/2015
Auto City Speedway
---
Results July 2nd and July 5th
July 2nd
Auto City Speedway kicked off Independence Day weekend early as the ATR
Motorsports Monster Trucks invaded the Clio speed plant.  There was plenty of action, including a jet dragster, skid cars and more.
Seven monster trucks were on hand from all over the Midwest.   The first event was the Wheelie competition and Larry Quick from Aledo, IL was the crowd favorite in his '68 Mustang called "Ghost Rider" and took the championship belt.  Then it was side by side racing and Louisville, KY's Derick Anson took the in the "Heavy Hitter."
It was worth the trip as Anson was victorious in the Freestyle competition as well.
The crowd was thrilled as Fred Sibley rolled out his 1923 Pierce Arrow beer delivery truck.  The Budweiser hauler is fitted with an F-94 Starfire jet engine that makes 12,500 ibs. of thrust.  The 81-year old Sibley, who's been piloting this vehicle for nearly 60 years melted down an S-10 pickup in less than 5 minutes!
Fireworks filled the night sky, but not before Elmer Orr won he Skid Car race in his very first night of competition.
July 5th
It was the perfect way to finish off Independence Day weekend as Auto City Speedway put on Maximum Destruction sponsored by Crystal Matteson of "Octane Beauty Studio" on Sunday afternoon July 5th.  The grandstands were packed, the weather was beautiful and there was plenty of destruction!
It was a big night again for Josh Delong as he started out by winning the Boat Race.  Scott Platz led the charge to help dry off the track after the boat race by winning the Draggin' Race.  Amanda Clayton took the victory in the Powder Puff race prior to the autograph session on the track.
Delong and Randy Clayton, Jr. teamed up to win the Chain Gang race and the Push Car race.  The 50-lap Enduro was exciting as Maverick Morrow led almost all the way until the very last turn when Larry Plamondon got by him and won by a bumper length.  Seven buses started the School Bus Figure-8 and at times they were running 3-wide!  In the end it was Jerry Parker claiming his first school bus win followed by Scott Platz and Delong.  Josh finished out the night by winning the Figure-8 trailer Race.
This Saturday, July 11th it's UAW Night at the races with  the 3rd round of the Triple Crown Series for the O'Guinn Modifieds.  The Suski Pro Late, Herald Pure Stocks and Bob Kerns Auto Repair Figure-8's are also on the schedule.  And the UAW/United Way car show kicks off the day's events starting at 3pm.  For more info call 810-686-9500 or go to autocityspeedway.com.
Back to News