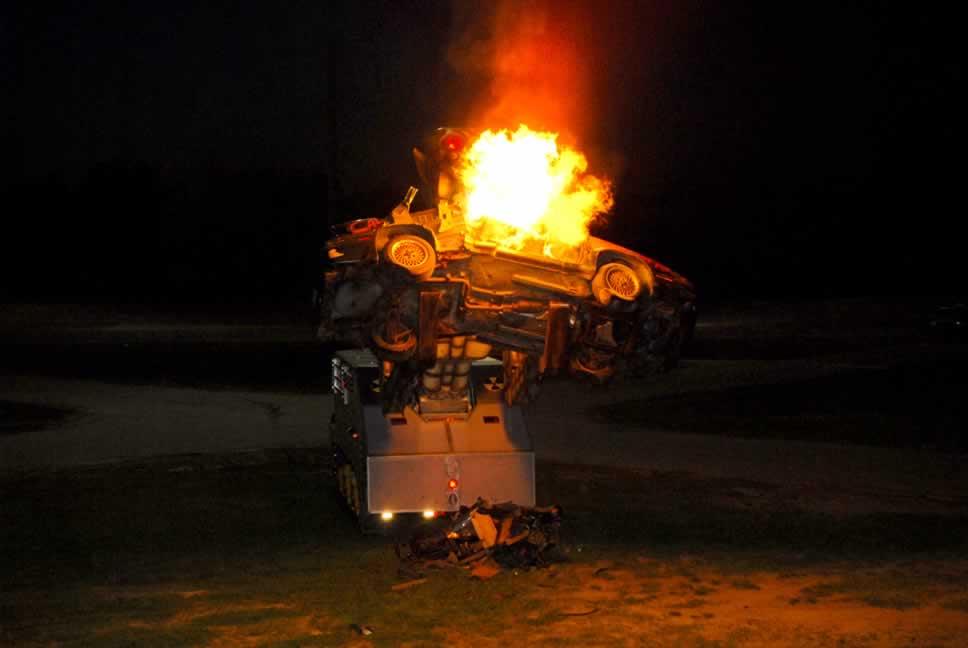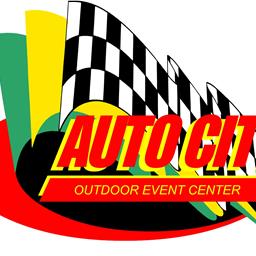 5/25/2015
Auto City Speedway
---
Results May 23rd
The weather was perfect, the grandstands were packed and the action was wild as Hubbard's Military Supply presented Maximum Destruction May 22nd at Auto City Speedway.  The Max D shows are always fun, but there were special surprises for this one.
Half way through the night a huge, menacing mechanical beast came rumbling out of the pits.  It was Megasaurus!  He was in a surly mood, as he ate a car on the front straightaway, tearing it in half and burning it with his flame nostrils.  The fans had a great time watching this 3-story tall robot!
But then a little Smart Car came on the track...to deliver a pizza! Well, since pizza is already sold at Auto City, he was escorted off the track. But a little while later he came back, sporting a 1500 horsepower Huey helicopter jet engine.  With Jeff West at the controls, the crowd could feel the heat in the stands as he circled the track shooting flames and smoke from the back of his Smart Car!
There was plenty of racing action as well, and it was a big night for Josh Delong.  He started out teaming up with Randy Clayton Jr. to win the Chain Gang race.  Then Delong won one of the Flag Pole races, while Ricky Jablinski took the other.  Then Delong and Clayton combined to win one of the Push Car races as Cam and Cory King claim the other. Amanda Clayton also celebrated a victory in the Powder Puff race.
Cam King continued his success, taking the lead 10 laps into the 50-lap Enduro and lapped the field on his way to victory.  Shane Fogarty won the Skid Car race, and Delong grabbed his fourth checkered flag of the night in the Figure-8 Trailer race.
In the School Bus Figure-8 newcomer Logan Morrow took the early lead.  Morrow stayed out of trouble, and ahead of Maverick Morrow to take the win in first ever bus race.  Rounding out the top 5 Jerry Parker, Scott Platz and Shane Fogarty.
This Saturday May 29th the Midwest Classic Racing Series will be on hand along with Modifieds, Pure Stocks, Figure-8's and Spectator Drags.  For more info call 810-686-9500 or go online at autocityspeedway.com.
Back to News