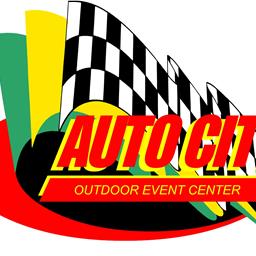 10/14/2013
Auto City Speedway
---
Results October 12th
It was the season finale at Auto City on Saturday October 12th after a weekweather delay.  But it was worth the wait as the crowd enjoyed a great night of Octane Beauty Supply "Maximum Destruction" presented by Crystal Matteson
The Clio-Mt. Morris Herald Pure Stocks kicked off the night as Andrew Burton set fast time with a 16.45.  Michael Briggs jumped out in front to start the 35-lap feature.  Jordan Lechota took over the lead on lap 4 and stayed ahead until lap 22 when Burton took over the top spot.  Drew stayed in front to claim the victory.  Track champion Lonnie Saumier Jr. finished second followed by Scott Beach, Lechota and Scott Platz.
Burton nearly made it a clean sweep in the Bob Kern's Auto Repair Krazy8's. Duane Damon started on the pole did his best to stay in front.  On the last lap Burton passed him at the finish line.  But Burton jumped the start, passing two cars before the green flag flew, which gave the win to Damon. Rounding out the top 5 were Ricky Dinius, Scott Beach and Shane Fogarty.
Of course the fans come to see the crashes and once again, they were notdisappointed. It was a huge night for Maverick Morrow as he led all 10 laps of the School Bus Figure-8 finishing ahead of Donny Matteson, Jr. and Nick Carr-Clemens.
He also teamed with Shane Fogarty to win the Chain Gang Race and the Rear Bumper to Bumper Chain Gang Race.  Then Morrow took the checkered flag in the 40-lap Enduro.  Cam and Cory King took the Push Car Race, while Crystal Matteson grabbed the Powder Puff Race.  Fogarty was also victorious in the Skid Car Race and Larry Bennett survived the carnage to win the Figure-8 Trailer Race.
Auto City would like to thank the fans, drivers and crews for their support for the 2013 season.  The annual awards banquet will be at the Arbela Township Hall on October 27th from 2-6pm.  For tickets or more info call 810-686-9500 or go to autocityspeedway.com.
Back to News