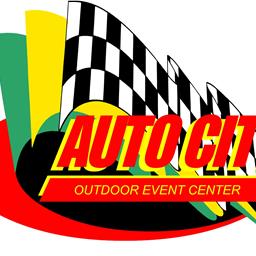 9/16/2013
Auto City Speedway
---
Results Sept 14th
Champions were crowned and fans were treated to some awesome racing asTiger Auto Salvage presented Championship Night at Auto City Speedway on Saturday, September 14th.
Travis Eddy came into the night trailing Jordan Pruitt by just 13 points in the JD ByRider Modifieds and he started the evening setting fast time with a 16.41.  Mike Luberda Sr. won the heat race and took the early lead in the 30- lap feature.  Luberda, Eddy, Jordan Pruitt and Joey Morrisette put on one of the best shows of the season as they thrilled the crowd, fighting it out to the checkered flag.  On lap 25 Joey Morrisette, who had dropped to 4th spot, battled back and took the lead on the inside of turn one.  "Nooner" Morrissette took the win, and Jordan Pruitt has raced all year long coming from Gaylord and won his first track championship.  Rounding out the top 5 in the feature were Eddy, Pruitt, Luberda and Matt Sevwrn.
Al Boitel Jr. had a stellar night in the Tiger Auto Salvage Street Stocks as he had quick time in qualifying with a 14.90.  Heat races went to R.J. Blandino and Johnny Hayden.  The feature went 40 laps and Hayden jumped out in front early.  Five laps later, point leader Jim Miller Jr. took over the top spot.  But Boitel had his car hooked up, and passed Miller on lap 10 and led the rest of the way for the win.  Jimmy Severn came all the way from the rear to finish second followed by Miller, Rob Sullivan and Julian Fluty.  Miller may have lost the battle but he won the war, claiming his first Auto City track championship.
Andrew Burton and Craig Bastien won the heat races in the Heald Pure Stocks.  Duane Damon jumped out in front to start the 25-lap feature.  The "Pitbull" held the lead until lap 7 when point leader Lonnie Saumier Jr. took over the top spot.  But Jordan Lechota ran with LJ side by side for more than half the race, and in the end, it was Lechota finishing ahead for the win.  Saumier was second, and claimed his 5th Auto City track championship.  rounding out the top 5 were Scott Beach, Bastien and Burton.
Randy Clayton Jr. jumped out front to start the Bob Kern's Auto Repair Krazy-8 and ran a great race, leading the first 5 laps.  But during all the bumping and banging, Andrew Burton pulled ahead to take the win.  The real story was Chad Lamson, who won his 5th straight Figure-8 championship.  Taking the top 5 spots were Duane Damon, Lamson, Clayton and Roy Reed.
Auto City's season finale happens on October 5th as Crystal Matteson from Octane Beauty Studio presents Maximum Destruction. The Auto Speedway Awards Banquet is at the Arbella Hall in Birch Run on Sunday, October 27th from 2-6pm.  For more info call 810-686-9500 or go to autocityspeedway.com.
Back to News