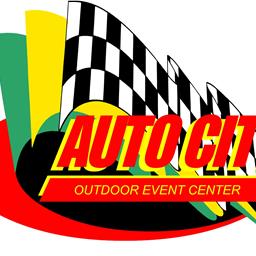 9/8/2013
Auto City Speedway
---
Results September 7th
It was a wet and wild night on Saturday, September 7th as Dixie Motor Speedway presented their final show of the season at Auto City Speedway with the "Michigan Corn Growers", having a big blow out party.  The racing included the Pioneer Seed 50-lap invitational for the Modified, and the General RV Eve of Destruction.  Rain held up the action for nearly an hour, and even came down during the races.  But the hearty fans were treated to some extreme competition.
Due to the inclement weather there was no qualifying for the Modifieds. Donny Matteson Jr. Jumped out in front and held the lead for the first 2 laps. Then Dave Christensen took over the top spot, and he battled hard to fight off Travis Eddy, Joey Morrisette and Ken O'Connor.  Christensen held the lead until lap 26 when Jordan Pruitt worked his way through the field and took over and held it the rest of the way to take the win.  Morrisette took
second followed by Eddy, Christensen and O'Connor.
But the fans come to see the destruction and despite the rain, they weredelighted with all the carnage on the track.  Cam and Cory King were double winners, taking the Chain Gang Race, in the rain, and also winning in the Dixie Crash Cars. Ron Haynes was victorious in the Flag Pole Race and Donny Matteson Jr. made a last lap pass to win the Enduro.  Due to the wet track conditions the School Bus Figure-8 was cancelled, but fans were delighted with all the wrecks/ mud racing in the Figure-8 Trailer Race, won by Russell Wilson.
Auto City Speedway will host Track Champion Night on Saturday, September 14th. For more info call 810-686-9500 or go to autocityspeedway.com.
Back to News