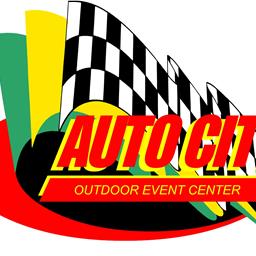 9/2/2013
Auto City Speedway
---
Results August 31st
The fans came for smashes and crashes, and they weren't disappointed as Crystal Matteson from Octane Beauty Studio presented Maximum Destruction at Auto City on Saturday, August 31st.  They were also treated to some great racing with the third leg of the Triple Crown Series for the Pro Late Models.
Norm Davis continued his success at Auto City, setting fast time for thePro Lates with a 16.44.  The 60-lap main event got off to a rough start.  A6-car pileup in turn 1 knocked out a couple cars and caused some damage on the others.  Clean up was quick, and when the race resumed Ed Doutre Jr. Took the lead.  Three laps later Joe Hodgeson Jr. Took over the top spot and held it until lap 15.  Then it was Blake Childers who paced the field until lap 25, when Davis took command and pulled away, taking the win and claiming a clean sweep in the Triple Crown Series.  Childers held on to second, Curt Genow took third, Hodgeson claimed fourth and Doutre came home in fifth.
But the fans come to see the crashes, and there were plenty to enjoy.
Maverick Morrow started off by winning the Boat Race.  Jimmy Bass was a double winner, taking the Draggin' Race and the Figure-8 Trailer Race.  Tim and Chuck Delong were victorious in the Chain Gang Race, while the night's sponsor Crystal Matteson won the Powder Puff Race.
In the Bob Kern's Auto Repair Krazy-8 race Roy Reed took the early lead and held until it until lap 8, when defending track champ Chad Lamson pressure him and finally took the lead and the victory.  Gerald Persails Jr. Finished second followed by Andrew Burton, Chris Wilbur and Reed.
Ron Haynes was also a double winner, taking the 40-lap Enduro and the Skid Car Race.  Cam and Cory King took the Push Car Race.  The School Bus Figure 8 was slowed by two red flags, but when the dust settled Dave Burgess stayed ahead for the win followed by Nick Clemons-Carr and Andre Baxter.
Auto City will do it again this Saturday as Dixie Motor Speedway andGeneral RV presents the Eve of Destruction at Auto City 6pm.  The night will also feature the Pioneer Seed 50-lap feature for the Modifieds.  For more info call 810-686-9500 or go to autocityspeedway.com.
Back to News