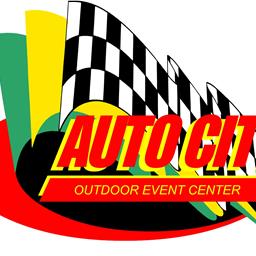 8/26/2013
Auto City Speedway
---
Results August 24th
It was a night that Race Track Jack would have loved, as Don & Patsy Lou's Williamson presented the Jack Doering Tribute "Mudslinger 150" at Auto City on Saturday, August 24th.  The Outlaw Super Late Models took center stage with a huge payout, and all three divisions created some wild action.
The evening began with a special presentation to Al Kukla,who raced on opening night at the Clio Speed Plant back in 1957, and is still racing today.  Hall of Famers Jack Goodwin and John Doering Jr. along with Jack's good friend Don Williamson and the Midwest Racing Scene's Terry Fitzwater were also in attendance.
Twenty two "Outlaw Super Stocks" took time trials as Labase,IN's Brian Ross set fast time with a 14.505.  The main event was run in two 75-lap segments, as Dakota Carlson and Scott Pemberton started on the front row.  Carlson got the early jump into the lead as the green flag fell.  But Ross, in his first trip ever to Auto City, forged into the lead on lap 35.  At the half way point, teams were allowed to make any adjustments to their race cars except for changing tires.  The luck of the draw put Carlson back in first place, but on the restart, Ross took over the top spot and the 35-year veteran pulled away for his first "Mudslinger" win. Money collected,  including his halfway bonus of $1000, lap prize money and the $5000 first place prize. Ross pocketed over $8000 for his work.  Jeff Ganus came from the rear after a early race spin to claim second just ahead of Scott Hantz. Drew Charleson racing out of New Bremen,OH got head of Harold Fair, Jr. To take 4th.  Rounding out the top 5 were Michael Simko, Pemberton, Mike Root, Mike Luberta Jr., and Frank Jiovani
It was a wild night for the Clio-Mt. Morris Herald Pure Stocks as Lonnie Saumier Jr., was quickest with a 16.53.  Heat race winners were Jeremy Johnson and Nick Johnston.  Duane Damon took the early lead in the 25-lap feature.  On lap 6 Johnston took the lead with Jake Thompson all over him.  An altercation between Saumier and Thompson put both cars to the rear late in the race. On lap 21 Scott Beach took had yet to win a feature.  But that streak ended as Beach stayed ahead for his first feature victory.  Johnston took second followed by Damon, Andrew Burton and Craig Bastien.
Things got even more exciting in the Tiger Auto Salvage Street Stocks asAdam Rowe led qualifying with a 14.87.  R.J. Blandino and Jim Miller Jr. took heat race honors.  The action-packed 30-lap feature saw Nick Lechota take the early lead.  The battle raged behind Lechota until lap 18 when Miller made a move on the bottom in turn one to take the lead.  But Lechota, attempting to get back at him, spinning Miller out.  The incident also collected Blandino, forcing all three cars out of the race.  That gave the lead to Al Boitel Jr. and he managed to hold off Robbie Johnson and Rowe for the win.  Rowe took second followed by Johnson, Julian Fluty and Matt Mosier.
Thanks to all that made the Jack Doering Tribute Race a success…Special thanks to John Doering Jr. and Don & Pasty Lou Williamson.
It's Octane Maximum Destruction this Saturday, 7pm, August 31st presented by Crystal Matteson from Octane Beauty Studio.  For more info call 810-686-9500 or go to autocityspeedway.com.
Back to News