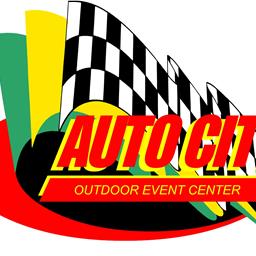 7/29/2013
Auto City Speedway
---
Results August 10th
A large crowd, great sponsors and lots of racing is what was on hand as JEGS/CRA ALL STAR TOURING SERIES invaded Auto City Speedway on August 10th, for the "Silver Bullet 100" presented by Coor Lite and JEGS.com with Robbie Johnson scoring the upsetting win infront of the hometown fans. Also on the tap was the 4th annual Greg Yost Memorial with the J.D. Byrider Modifieds and the St. Jude's Children's Hospital 50-lapper for the Tiger Auto Salvage Street Stocks, and the Hearld Pure Stocks.  As expected it was a late night, but the crowd stuck around and enjoyed some awesome racing.
Shirley,Indiana's Scott Neal set fast time out of 27 CRA cars with a15.545. In the 100-lap main event David McManus took the early lead.  Twocautions flags in the first 4 laps took out 5 cars, including local drivers Kyle Crump, Jimmy Novak, Kyle Hayden and Pat Zorn.  When things settled down McManus put as much distance between himself and the field as possible, until the caution flag on lap 48.  That tightened up the field, as Cody Coughin, Jerrod Foley and Robbie Johnson made runs at the leader.  "The Juice" held them off as fast qualifier Neal tried to get around on the bottom of the track. Then on lap 85 Neal made contact with McManus, spinning him out.  Both cars were sent to the rear, giving the lead to Johnson.  Coughin made some strong charges, Robbie held him off, as the Birch Run native took the win just ahead of Coughlin.  Rounding out the top 5 were Dan Leeck, Foley and Jason Dietsch, who came all the way from his 19th starting spot to take 5th.
Greg Yost had been a track announcer and general manager at Auto  City and other tracks for many years, and his memory was honored with a 50-lap Modified special event.  Drives were allowed to remove the tops of their cars, and Travis Eddy did just that and had fast time with a 16.35.  Heat race winners were Bobby Heyink and Dave Christensen.  Heyink jumped ahead to start the 50-lap feature and started to pull away until the caution came out on lap 20.  Jordan Pruitt took advantage of the opportunity as he took over the top spot and stayed in front for the victory.  Eddy finished second followed by Heyink, Joey Morrisette and Ken O'Connor.
John Leonard from Showcase Auto Sales quickly put together a special event for the Tiger Auto Salvage Street Stocks to help benefit St. Jude's Children's Hospital, and the fans were excited to see 27 quality cars in a field.  Jimmy Severn led time trials with a 14.64.  The 6-car dash was won by Julian Fluty, while R.J. Blandino and Jim Dormanwere heat race winners.  Nate Rowe jumped out in front to start the 50-lap feature but Chad Congdon took over one lap later. On lap 4 Dorman spun in front of the field in turn three, and Rowe piled into him, ending the night for both drivers.  Congdon led until lap 7 when Jim Miller Jr. took over and never looked back and led the rest of the way for the win.  Hall of Famer John Doering Jr.came out of retirement, started at the rear and finished second.  Rounding out the top 5 were Nick Lechota, Rob Kern and Severn.
The Clio-Mt. Morris Herald Pure Stocks were also in action as Scott Beach set quick time for the second straight week with a 16.65.  Heat race winners were Jeff Roethlisberger and Jeff Stinson. Jordan Lechota started on the pole and stayed there and put Kaylea Doering's Olds Cutlass in victory lane. It was quite a battle for second place involving 5 cars, but Beech wound up in the runner-up spot followed by Craig Bastien, Nick Johnston and. Cam Hiltz.
Auto City is the host venue for Dixie Motor Speedway this Friday, August 16th for "The Big One XI" featuring the Mid-Michigan Toyota Dealers ARCA CRA Super Series "Draper 125" along with the Auto Value Bumper to Bumper Super Sprints.  For more info call www.autocityspeedway.com or www.dixiemotorspeedway.com or call 810-686-9500
Back to News