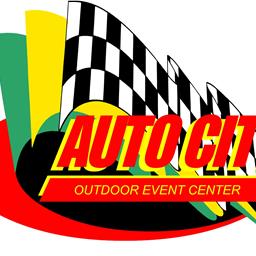 3/22/2013
Auto City Speedway
---
Street Stock Rules
These rules will be added to the rules package tomorrow..
Auto City Speedway –Dixie Speedway
2013 Street Stock/Factory Stock Tire Rule
HOOSIER 10"RACING SLICKS (USED ONLY. NO "NEW"SCUFFS ALLOWED) WILL BE THE OFFICIAL TIRE OF THE AUTOCITY - DIXIE SS/FS CAR CLASS. THE FOLLOWING CRITERIA & SPECIFICATIONS WILL BE STRICTLY INFORCED.
ALLOWABLE TIRES: For the 2013 season, the following set ups are allowed.
Hoosier 30-35, 30-45 and 30-56 allowed, but must have a 2012 date code.
Hoosier F-40 and F-50 allowed, any date code.
Hoosier 30-35 and F-40 may be used on left side only.
ALL TIRES "
MUST BE USED"

& HAVE A TREAD LIFE OF 75% OR LESS. A MINIMUM DUROMETER READING WILL ALSO APPLY.

(This rule will be strictly enforced) 

?  All tires must be approved & branded by speedway official prior to mounting. Once branded, tire will allowed for use at both tracks without restriction.

? The feature winner will surrender their tires for trade-out with available track inventory. This is mandatory & must be completed before receiving winnings and points. Refusal to surrender your tires will result in loss of event points and prize money. You will not be allowed to compete in any future events until you have traded your tires out with track stores.

?  Track inventory of used tires will consist of mostly used Hoosier F-40 & F-50  slicks. You will be required to trade-out any tire set-up you may be using with the existing track inventory, under the surrender / trade-out rule.

? All tires are subject to surrender / trade-out, at speedway discretion. Refusal to surrender your tire or tires will result in an immediate disqualification from race events!

? Tire availability will generally be on a 1st-come 1st-serve bases, at no or minimal handling cost. Cars that do not have a set of approved tires will be given preference.

?  Maximum rim width remains 8 inches.

?  Maximum tread width - TBD

Back to News