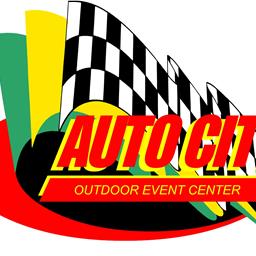 10/8/2012
Auto City Speedway
---
Result October 6th
The weather was cold, but the action on the track was hot as Auto City's season finale was run Saturday, October 6th.  Hubbard's Military Supply presented Maximum Destruction, and the hearty fans that braved the cold were treated to some great racing.
     Track champion Lonnie Saumier, Jr. paced qualifying for the Mt. Morris-Clio Pure Stocks with a 16.61.  Gerald Persails, Jr. led the first 3 laps, but was plagued with engine problems and forced to pull off the track.  Then it was Chad Lamson's turn to lead the field.  Cam Hiltz took over the top spot on lap 6, and "Captain Cam" held the lead until lap 10.  Then it was Saumier, driving his back-up car, taking over and leading the rest of the way for the win.  Hiltz finished second followed by Scott Beach, Duane Damon and Charlie Thom.
     It was Duane Damon's night in the Bob Kern's Auto repair Krazy-8's as he led from start to finish, holding off track champion Chad Lamson for the win.  Lonnie Saumier, Jr., Gerald Persails, Jr. & Charlie Thom rounded out the top 5.
     Twenty-two drivers started Auto City's first Powder Puff derby, as Crystal Matteson grabbed the lead on lap 5 and pulled away for the win.  Jim Daniels, Jr. won the Draggin' race, Bill Simpson took the Reverse race win and Shan e Fogarty won his third straight Skid Car race.  The teams of Cam and Cory King and Colt Mabry and Donny Matteson, Jr. were victorious in the Chain Gang races, while the King brothers and Daniels and Matteson teamed up to win the Push Car races. 
     Donny Matteson, Jr. also started in front and led all the way to win the School Bus Figure-8, followed by Nick Clemons and Rex Perry.  Josh Delong bested a field of 42 vehicles to win the 50-lap Enduro, while Brett Sullivan capped off the night by winning a wild Figure-8 Trailer race.
     This Saturday, October 13th, Auto City will finish out the 2012 season with the annual Swap Meet from 8am til 2pm.  Then it's the annual Awards Party at the track, with a pig roast, beer olympics, music and trophies.  For ticket info call 810-686-9500 or go to autocityspeedway.com.
Back to News